Site News 22nd October
The site has a new look which is considerably more "mobile friendly" for those browsing on handheld devices. As part of this refresh some menu items will have moved - we hope to more logical places.
There is a new section "Blog" where the Custodians, David and Roger, can comment on the material and implications for action today and in the future without attempting to be "objective" about historical facts. We don't envisage using it a lot, but we do sometimes find ourselves wanting to express a personal opinion so this is the place where we can do that.
The News and Updates section has been broken into three - General News will appear under Home - News on the menu. Details about new and updated articles will appear under Articles - Article Updates. Details of additions to the Library will appear under Library - Library Updates. These items may also be reflected on the home page where there are significant changes.
FEATURED ITEM July 2018
THE VERDANT VENUE 1983
an alternative humorous view of the Green Gathering
In 1983 a young author and illustrator called Pete Loveday found himself at the infamous Green Gathering at Lamberts Hill Farm.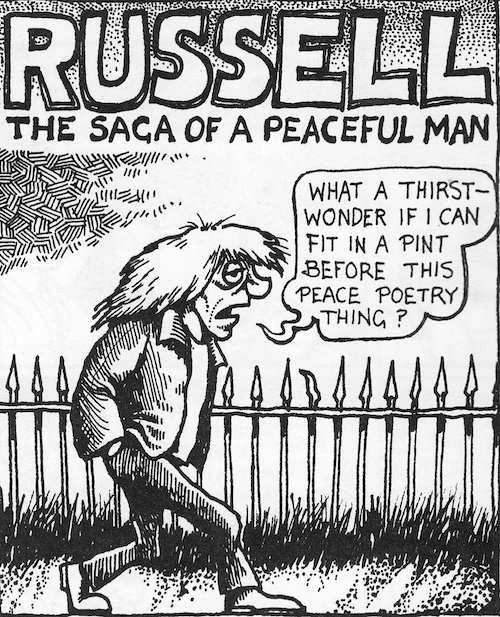 His experiences inspired him to go ahead and produce his first full length comic book featuring "Russell - the saga of a peaceful man".
After encounters with various aspects of the alternative/green scene in his home town Russell decides he needs to get away and sets off to hitchhike to "The Verdant Venue".
Each day in the run-up to this year's Green Gathering at Chepstow starting from Monday 9th July we will bring you another episode from Russell's adventures as he experiences "The Verdant Venue" - a festival you will find strangely familiar if you have ever visited any Green Gathering.
FEATURED ITEM
May-June 2018
GREENHAM FESTIVAL 1982
aka the Counter Cruise Cosmic Carnival 
Each month we will be featuring a new article, or something similar, which we think is of particular interest, either because it gives more depth or because it sheds new light on some aspect of our green history which we think improves our understanding of what was happening.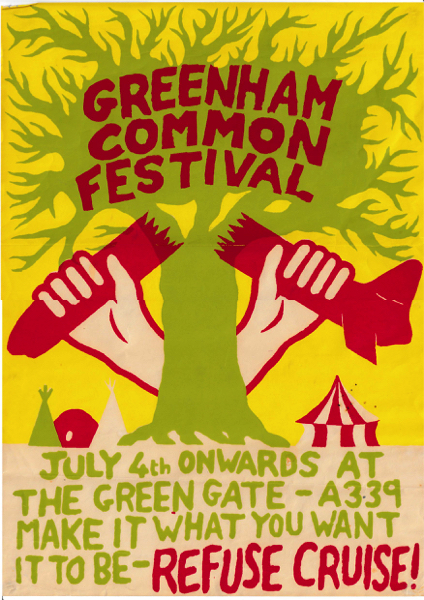 This month we are featuring David's piece on the July 1982 Greenham Festival - also known as the Counter Cruise Cosmic Carnival (not spelt with "K"s, though it could have been).
Do take a look - there is a lot of good stuff in there which has been teased out as David managed to talk to more of the participants.

In particular a suggestion has come to light that the involvement of the "peace convoy" might have been partly triggered by an agent provacateur.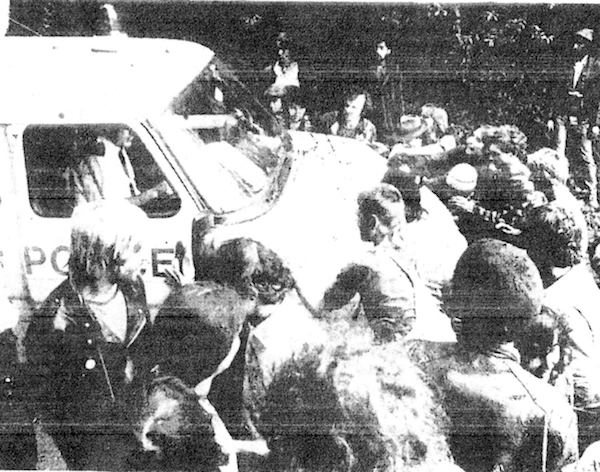 Were you there? Did you help levitate the police van complete with driver? What do you remember - add your comments on the web page.
Is this type of direct action done better today? Is violence against property (in this case attacking the fence in response to the destruction of trees by the other side) a good idea? Ever? Never? Where did you stand then? Where do you stand today?
Use the comment form under the article.
---
---
What's Where
In the Library area you will find an ever-expanding range of resources. The Document Archive contains scans of original paper. There are also collections of images, graphics, video and audio as well as a selection of recommended books and weblinks.
We are always looking for new material - if you have anything from the period; a copy of your election leaflet from the time you were persuaded to stand for the council, a placard from a demo you attended, photos of some action, a poster you saved, or a cache of some obscure news letter/magazine you received, then do get in touch - info@green-history.uk.
Under Articles, People and Elections in the top menu you will find contemporary accounts, more recent recollections, commentary and opinion.
News, under Home on the menu, carries general news about the project, Article Updates, under Articles on the menu, lists new and updated articles, Library Updates under Library details new material added to the Library.
History is subjective and we welcome debate, comment and opinion - if your memory or experience differs from that presented here then have your say - this is YOUR history. You can comment using the form at the bottom of most pages or contact us by email - info@green-history.uk.