Navigating Green History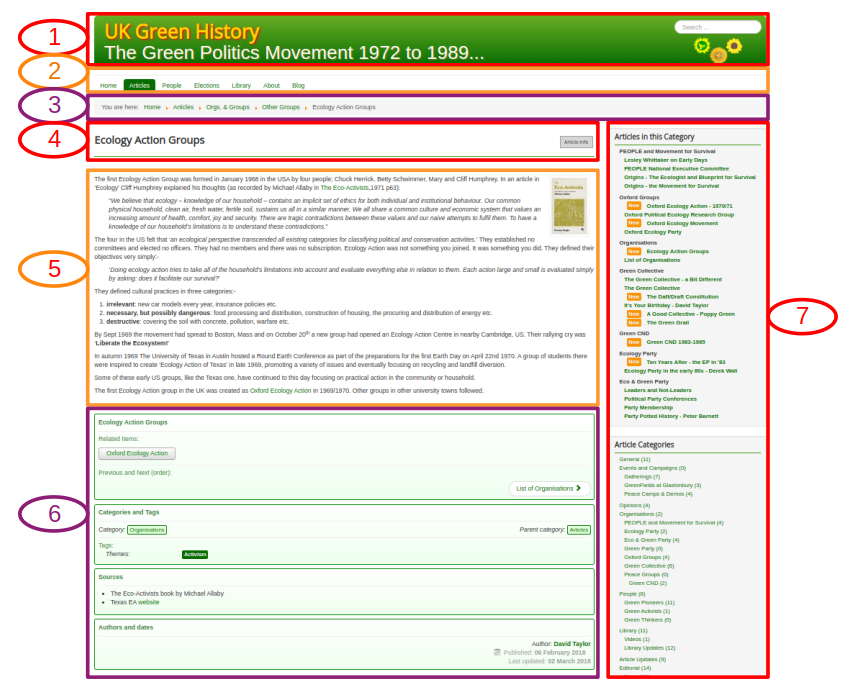 A typical page has 7 main areas:
The header. Common to all pages. The search box in the top right will search the entire site for a word or phrase and generate a new page of search results.
The main menu bar(s). As you click on a top menu item a sub menu will open and an introduction page to that section will be displayed
"Breadcrumbs" the trail of menu items which lead to the current page. Click an entry to go up to tat level
The Page Title Area. For articles the will be a button at the right linking down to the article information section
The body text of the item. This may be a single article, details of a single file in the archive, or a list of items, categories or tags. If there are references in the article they will appear at the bottom of the article text.
The article information area. Links to adjacent articles, category and tags. Information about sources used for the article. Article author and date published on Green-History.
Sidebar area with lists of categories and tagged items relating to the current item.
Links
Links in the text are use green text like this (that is not a link). If the link is to an external site it will have an arrow pointing up and right at the end of the link text like this If the link is set to open in a new tab or window the arrow will come from a box like this .