FEATURED ITEMS October 2018
for the exhibition at the Launch Reception for Green-History at the GPEW Conference on 5th October we focused on development of the political party since 1972.
As part of this we had display panels on Leaders, Conferences and Members. These listed all of the people, locations and numbers - with some gaps which will be filled in over the coming month.
You can now see the exhibition panels online and also the more extended articles: 
The history of each of these areas and the responses that happened at each stage contain many lessons for activists today wanting to build and develop the political arm of ecologism in the UK (and elsewhere) 
 
NEWS October 2018
Successful Reception & Exhibition at Greens Conference
Over 100 people came to the Green-History Project launch reception and exhibition at the Green Party Conference on 4th October.
Feedback has been very positive, but several people asked if the exhibition would be there for the weekend as there was a lot to see and they were quite engrossed. Sadly the conference couldn't accommodate it but we have made it available 
here
 so if you missed it you can browse at your leisure.
We were also given a load of fantastic new material by various kind donors, which our next task is to process and make available. So from our point of view a tremendous success. It will take us some time to get through this but you can expect a reasonable stream of updates over the coming months as we have a considerable backlog.
Items include many of the missing EcoNews and EcoBulletin newsletters from the Ecology/Green Party.
Honouring one of our founders:
We were delighted to welcome Lesley Whittaker, one of the original four founders of PEOPLE in 1973, at the reception. It was a great pleasure to meet her and hear first hand some of her memories of those early days. Lesley tells us she is considering writing a book about the time, and we look forward to presenting more of her recollections and reflections here.
Site News 22nd October
The site has a new look which is considerably more "mobile friendly" for those browsing on handheld devices. As part of this refresh some menu items will have moved - we hope to more logical places.
There is a new section "Blog" where the Custodians, David and Roger, can comment on the material and implications for action today and in the future without attempting to be "objective" about historical facts. We don't envisage using it a lot, but we do sometimes find ourselves wanting to express a personal opinion so this is the place where we can do that.
The News and Updates section has been broken into three - General News will appear under Home - News on the menu. Details about new and updated articles will appear under Articles - Article Updates. Details of additions to the Library will appear under Library - Library Updates. These items may also be reflected on the home page where there are significant changes.
FEATURED ITEM July 2018
THE VERDANT VENUE 1983
an alternative humorous view of the Green Gathering
In 1983 a young author and illustrator called Pete Loveday found himself at the infamous Green Gathering at Lamberts Hill Farm.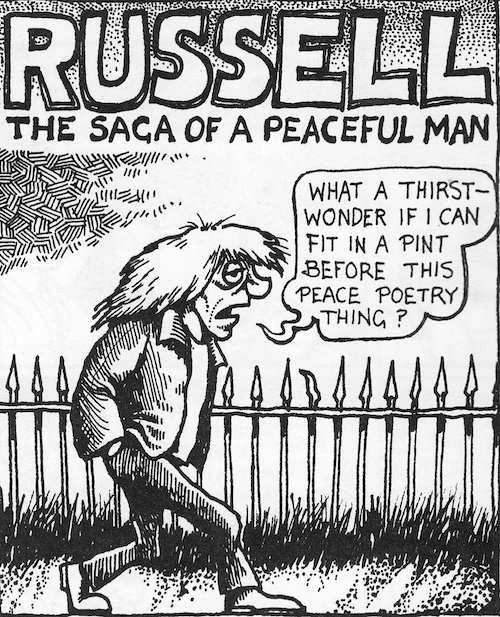 His experiences inspired him to go ahead and produce his first full length comic book featuring "Russell - the saga of a peaceful man".
After encounters with various aspects of the alternative/green scene in his home town Russell decides he needs to get away and sets off to hitchhike to "The Verdant Venue".
Each day in the run-up to this year's Green Gathering at Chepstow starting from Monday 9th July we will bring you another episode from Russell's adventures as he experiences "The Verdant Venue" - a festival you will find strangely familiar if you have ever visited any Green Gathering.
---
What's Where
In the Library area you will find an ever-expanding range of resources. The Document Archive contains scans of original paper. There are also collections of images, graphics, video and audio as well as a selection of recommended books and weblinks.
We are always looking for new material - if you have anything from the period; a copy of your election leaflet from the time you were persuaded to stand for the council, a placard from a demo you attended, photos of some action, a poster you saved, or a cache of some obscure news letter/magazine you received, then do get in touch - info@green-history.uk.
Under Articles, People and Elections in the top menu you will find contemporary accounts, more recent recollections, commentary and opinion.
News, under Home on the menu, carries general news about the project, Article Updates, under Articles on the menu, lists new and updated articles, Library Updates under Library details new material added to the Library.
History is subjective and we welcome debate, comment and opinion - if your memory or experience differs from that presented here then have your say - this is YOUR history. You can comment using the form at the bottom of most pages or contact us by email - info@green-history.uk.