This item by "Andy" originally appeared in the October 1984 issue (no 26) of Green Line in the "I was there" series of first hand accounts of events. Fairford RAF base had an annual open day when the public could come and admire displays of the weaponary and technology. Green CND attended the event on 22nd July 1984
WE SPENT a very enjoyable week at Groundwell Farm near Swindon (Thank you) where we prepared for the Open Day at Fairford on Sunday July 22. We made lots of banners, some of which were put up outside, such as "This is a FAIR we can't afFORD", "Ideal War Exhibition", and "Don't Open It, Close It." A few days before the Open Day we went road-painting, which was still there large and clear for the visitors (about 50,000).
On the day we got in with none of the trouble we thought we might have had. We didn't allow for our feelings of powerlessness in the face of such an overwhelming event where so many come to marvel at all the war machines. So we were unable to do some of the things we had prepared. Fifteen of us inside, and some of us with the local CND group outside, handed out official-looking leaflets. Inside we put "Designed for killing" stickers on suitable objects such as war toys, model kits, and military equipment. Two of us were escorted out of the base just for handing out leaflets, and most of the rest were told to stop by MOD police as the Americans objected to us exercising our democratic rights "on their patch".
At 4.30 and just before the Red Arrows display, five of us climbed on to a Phantom jet and displayed two banners reading "Designed for killing" and "Toys for the Boys". At the-same time the others on the ground threw two dolls covered in blood in front of the plane to symbolise all the people killed by such planes. After ten minutes we came down voluntarily and were arrested for a "breach of the peace".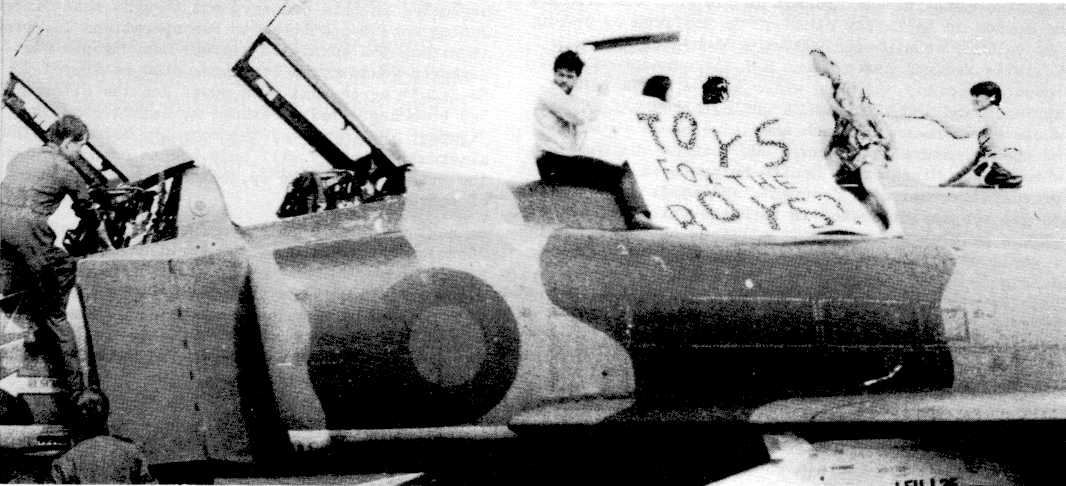 The pilot, who had been very anxious while  we were up there, rushed up to inspect the plane. We were then accused of removing a screw which we were nothing to do with. Later at Cirencester police station (where we were held for four hours) we were questioned by C.I.D. about the missing screw and about a missing limb from one of the bloody dolls! Had one of us put it down the air intake?!! We were released without charge "pending further investigation into the plane", and told to report to Cirencester police station on August 18 to be charged, unless told otherwise in writing.
In the event, charges were dropped.
Andy.