The 1979 Election, where the Ecology Party stood 53 candidates and had a national election broadcast, had attracted many new people to the party who had not previously engaged with politics. Many came from the alternative lifestyle movements, whilst the party at that time had decided to try and set a political lead and become a conventional political party pursuing electoral success.
At the Ecology Party Spring Policy Conference of 1980, it was proposed that a Summer Gathering should be organised to discuss policy.
As David remembers it: "It began for me in the 70s when I was going to Stonehenge free festivals and at the same time involved in the Ecology Party and going to their conferences. ... it seemed to me that the two things belonged together, it was all one social movement inside my head at least. But out there in the world outside they were these two entirely separate realities."
At the 1980 spring conferences there was also a group of new members from Tipi Valley in Wales including Maggie Lomas, Brig Oubridge and Sid Rawle. After discussion with like minded people a motion was proposed (Maggie Lomas was the formal proposer) that rather than having a conventional policy conference the next one should be a "gathering" outside somewhere where people could get together and celebrate their lives and develop a deeper sense of togetherness.
Jonathon Porritt was chairing the meeting and commented dismissively from the chair "well are we going to have a proper conference next time or are we all going to go and camp in a muddy field". This caused outrage amongst those wanting a more inclusive gathering and Sid Rawle leapt up crying "point of order Mr. Chairman" and proposed a vote of no confidence in the chair for presenting the choice in such a partial way. This was very close on a show of hands, so went to a 'card vote' and was narrowly lost. The substantial motion was also then lost and the group in favour of a gathering got together despondently over lunch. During the conversation someone said "well why don't we just do it anyway" whereupon they all looked at each other and said "yes, why not" and so the Green Collective was born and the first gathering was planned.
Michael Eavis was approached and since there was no Glastonbury Festival planned that year he offered the use of a field and barn on Worthy Farm to host the event which was deliberately called a "gathering" rather than a "festival" to reflect a more tribal and participative approach. The Gathering was advertised mainly through the Ecology Party, and was projected as an Ecology Party event, although without the official backing of the party.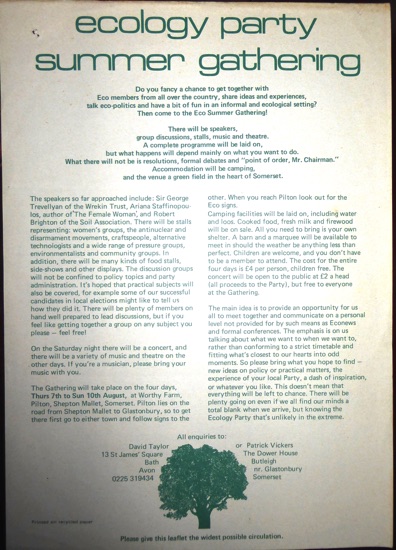 The 1980 Gathering attracted around 500 people; and right from the start they were a fairly mixed collection. On the one hand many were Ecology Party people who had come expecting to debate policy; on the other, many ordinary festival goers came (the venue was Worthy Farm, already the site for several Glastonbury midsummer festivals) without perhaps fully appreciating the nature of the event, and they were joined by hard-core tipi dwellers running a sweat lodge and non-stop drumming workshops and alternative life-style bus people who provided electric music and alcohol.
As the leaflet says "there will not be resolutions, formal debates and 'point of order Mr.Chairman' ". It explains "The main idea is to provide an opportunity for us all to meet together and communicate on a personal level not provided by such means as EcoNews and formal conferences.". The event ran over four days from Thursday until Sunday.
At this first Gathering, the Collective arranged a series of electric bands who played in a barn nearby with the Saturday concert open to the public . Roy Harper headlined, and Inner City Unit with Nik Turner were also on the bill. It is probable that Roy Harper's management thought it was the full Glastonbury Festival - David and Brig remember the manager driving around the field in his Rolls Royce stopping people and demanding to speak to whoever was in charge - of course he got no sensible reply since everyone knew that both everyone and no-one was "in charge". This was a self-organised event.
After the Gathering the organising collective decided it would be worth running the event again the following year. They decided to restrict the music to strictly acoustic and Michael Eavis again offered the Worthy Farm site a month after the Glastonbury Festival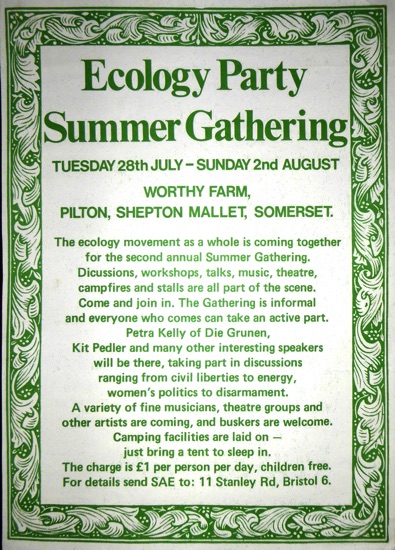 Once again it was mainly advertised again through the Ecology Party. Around 1500 attended this time. The event was extended to six days at the end of July from Tuesday to Sunday. Petra Kelly was advertised as attending to speak, but in the event could not come - however a delegation from Die Grunen did attend and presented on her behalf a beautiful milk jug, inscribed 'May the pure light within you guide you all the way on'. This became known as the "Green Grail". It was taken to Collective meetings and to subsequent Gatherings carrying the spirit of the Gathering with it. 
It was at the end of this Gathering that it was unanimously decided to become a Green Gathering and to invite people from all parts of the movement.