pf0008-EPnews2-03-HH-Mar78.pdf
size: 1.47 MB
Source: Scanned by Peter Frings from own archive
Archived: January 2018
Summary:
Front page featuring new logo and letterhead. Editorial on nuclear reprocessing and criticising "heavy-handed" NEC dealings with SW region.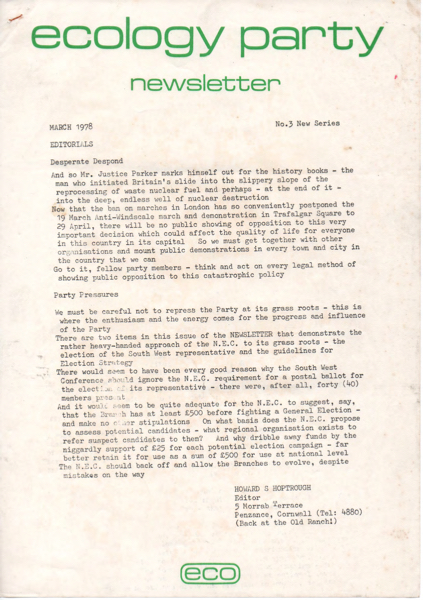 Contents:
NEC report. Torness action. Liberal Ecology Group report. Local branch reports - South Birmingham, Bristol & West Avon, SW conference, East Anglia. Election Strategy. Background to new logo and identity (Eco) 
Format:
Ten pages on five double sided A4 typewritten sheets duplicated on various colour paper.
---
All Our Yesterdays - On This Day
8th December
Events on this day in (Green) History
NB Links to All Our Yesterdays website open in a new tab/window
All Our Yesterdays - On This Day
Links to All Our Yesterdays site for events that happened on this day in (Green) History
NB Links to All Our Yesterdays website open in a new tab/window