...not forgetting Alliance, Good earth, Ecology Party News, EcoBulletin, Green Line, EcoActivist, Green Activist and Real World.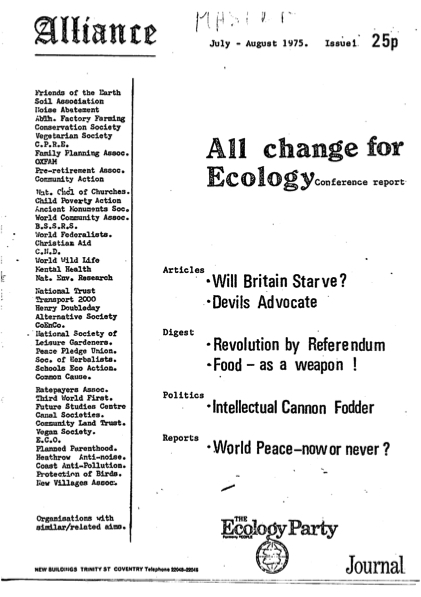 When the name was changed to Ecology Party in June 1975 the existing "PEOPLE Newsletter" which had produced 10 issues (all in the Document Library) changed its name and format to "Alliance" with the sub-head "The Ecology Party Journal". Produced by Michael Benfield it ran to 32 pages (approx A5 size) with a wide range of content, gradually Ecology Party news became a smaller and less prominent part of the journal and after six issues it disappeared in Feb 1976. Despite being underwritten by Michae Benfield himself the production cost was more than the party could bear and the hoped for external sales barely materialised.
Alliance was followed by a much simpler roneo'd newsheet on A4. The party also had a deal with an independent magazine "Good Earth" to carry party news and this was also offered to members on a bulk purchase arrangement. In effect the party was subsidising the production of Good Earth and continued to do so until it too folded. We have been unable so far to track down any copies of Good Earth - can you help?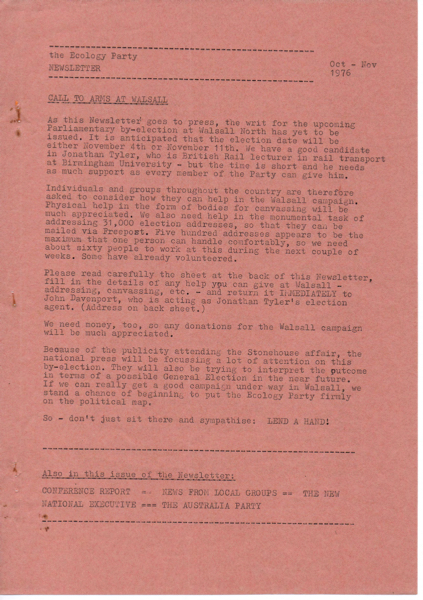 "Ecology Party Newsletter" was initially edited by Keith Rushworth (Colin Fry, the party information officer, edited the first issue but promptly resigned as he had too else much to do). Five issues were produced from Dec'76 to July'77.
Howard Hoptrough took over as editor and relaunched with an improved look and numbering started again from issue 1 in Nov'77. Issue 3 of the new series in March'78 acquired a proper masthead and continued to issue 7 in January'79 when Howard resigned as editor after a disagreement with the national council over editorial independence.
New editor Peter Frings took over and gave it a new look and a new name - "EcoNews" - the first issue was published in March 1979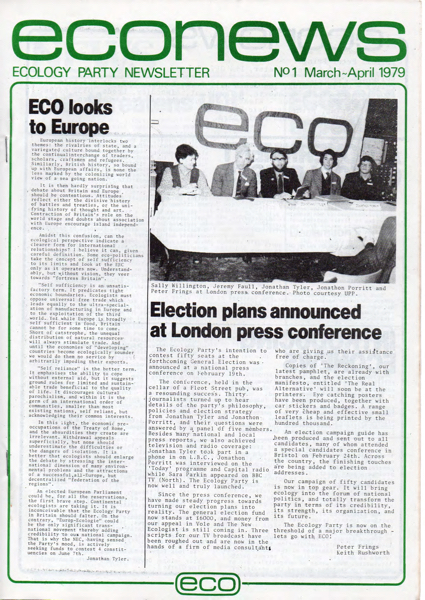 As well as the new name the paper was now offset litho printed allowing smaller fonts and greyscale images to be included. It was still A4 in format.
Peter produced the first seven issues from March/April 1979 through until March 1980 with an issue coming out every two months.
All seven of these and the preceeding Ecology Party Newsletters are in the document library under Ecology Party/Newsletters. There may have been one or two further issues before the autumn 1980 conference but we do not yet have these.
Conference decided that it wanted a cheaper information bulletin as well as a more broadly based political publication of the sort that ecoNews had become. Since the party could not afford both, EcoNews went into abeyance and a new publication "Ecobulletin" was distributed to members.
Anne Rix was the editor (in 2006 she was still editing the SW Region newsletter when I took over from her - RogerCO) and in the second issue (we are missing the first) Gundula Dorey (National Council Member) was at pains to respond to the "cry from the heart - whatever happened to econews?" going up from several quarters. She explained that it was a question of money and that it was hoped that support, and an editor, would be forthcoming to relaunch it as a quarterly journal with more sophisticated green political news and capable of appealing to wider supporters and potential supporters as well as members.
Ecobulletin was to be published every two months and distributed to all members. We have issues 2 (Dec/Jan 80/81) through to 9 (Oct'81) and these will be appearing in the library shortly.
Issue 3 carried a front page piece from Jonathon Porritt suggesting that since no-one had come forward to take on EcoNews the Political Committee would sponsor a one-off election special and calling for members to contribute material. Evidently this was produced as Ecobulletin #5 has an advert for members to get bulk copies for use in the election campaign.
Ecobulletin #6 saw a new editor, Alan Hornsey taking over from Anne Rix. The Internal Communications Committee report to autumn 1981 conference (printed in #9) explained that since issue 6 of Ecobulletin it being obvious that EcoNews was not going to be produced independently the Political Committee had produced a "Forum" insert for the bulletin. There was continuing concern about production and distribution costs, at £8913 for the year to 31st March it was the largest single line expense in the accounts presented at autumn/81 conference.
To fill the void left by the hiatus in EcoNews a group of ecology members and others in Oxford decided to start publication of Green Line as a general publication on Green issues, also carrying Ecology Party news. The first issue of Green Line appeared in March 1982 and it continued publication of 10 issues a year with a brief hiatus in 1989-90 through until the late 1990s.
We have a copy of EcoNews #13 June 1982 which has reverted to a simple single sheet of A3 folded to give four sides of A4 very clearly targeted at members. The sub heading is "Ecology Party Newsletter". At present we are far from having a complete collection. After #7 and #13 the next issue we currently have is #32 Nov.86.
The 1981 Election EcoNews was numbered 10 so there were two further issues between #7 and the conference decision to change it. There must also be two issues between the 1981 election special and #13 in June 82. Then there would be 18 numbered issues between June'82 nd November'86, so it looks as if EcoNews was published as a quarterly journal from early 1982 onwards. The parallels the start of Green Line and probably explains why Green Line fairly rapidly ditched its sub-head "A Magazine of Ideas and Action from the Ecology Party and the Green Movement" to become the "Magazine of the Green Movement" by issue 4 in Summer 1982.
By #32 in November 1986 the front cover was again looking a bit neater with "econews" in green and the sub heading "The Green Party's Newsletter". It was printed on 2 double sided A3 sheets folded to give an 8 page A4 newsletter, but still very much focussed on internal Green Party issues.
The next issue, #33 dated February 1987 sees a complete change of format and style. It became an A3 sized newsprint paper with some green highlighting on the outside sheet. Inside there is a somewhat wider range of material.
In 1987 editions were produced in February (33), May(34), August(35), and November (36) so it was evidently still coming out quarterly.
We currently have awaiting scanning isues 32 (Nov'86)-35, 37, 39, and 41-60 (May 1992). Or to put in the other way we are missing #8-#31 inclusive and #36,#38 and #40. If you have any of these lurking under the stairs please do get in touch.
The Issues that we do have from 33-60 will be available in the library as soon after we have the A3 scanner commissioned - see the Appeal page
After issue 60 in May 1992 two copies of an A4 magazine entitled "Real World" were produced. At the 1992 autumn conference AGM a motion was passed that the content and publication of a Party Newspaper should rest with an editorial board elected by and accountable to conference - this was intented to remove the newspaper from interference by the executive with the purpose to "inform members impartially of Prty business and significant developments within the party, and to provide a forum for the networking of information, ideas and opinions between all levels and sections of the party."
Writing introducing the first edition of Green World in February 1993, Janet Alty who was convenor of the editorial board described Real World as being a "magazine with feature articles targeted mainly at those with a university education, and less towards the communication needs of the Green Party"
She concluded "The Board hope the paper will be a mx of humour and ideas which members and supporters will find useful and stimulating". The sub-heading under the title Green World was "The Newspaper of the Green Party"
It was printed on A3 newspaper with green highlights on the front and back cover. Unusually the back cover was printed as two sideways A4 sheets allowing the whole newspaper to be folded in half giving an A4 appearance with two 'front" pages - and A3 one and an A4 one.
We have copies of issues 1-8 (Feb'93 to Nov'94) awaiting scanning - although it may be some time before these appear here as I priority for 2019 is to get as much material from the 1970s and 1980s available.
Green World has survived until the present (2019) day, although sadly now as an online publication. The 100th edition, published in 2018, was the last (for the moment) to appear in paper format.